Owner's Manual 7 speed Nexus CanCycle & Easy Riders
CF Commuter Owner's Manual 
Thank you for purchasing a Pedal Easy E-Bike. Your bike has been carefully designed and assembled to provide the ultimate cycling experience by combining the very best elements of a quality bicycle with the added benefit of power assist when you need or want to use it. Best of all, it's easy to use and maintain. 
Specifications:
Frame:

XC-lever, high modulus Carbon T800-18K

Size:

15" and 17"

Weight:

37 pounds

Wheel:

700c

Fork:

TW MgAl alloy, Air suspension, Remote

Brakes:

SHIMANO MT200 hydraulic Disc brake + PRO floating

Gears:

SHIMANO SLX/M7000 Derailleur 21 speed

Tires:

Continental, RACE KING, 29×2.0
Preliminary Safety Checklist: If your bike was shipped to you (as opposed to picked up at our shop) then, prior to use, please do the following (or have your bike mechanic confirm the following): 
Brakes

Check brake levers are securely fastened to handlebar
Check that both front & rear brakes effectively stop the bike

Wheels & tires

Check tire pressure is within acceptable range (see "Maintenance" below)
Ensure front and rear axle nuts are tightened to specifications.

Saddle

Adjust to proper height for rider & ensure clamp is secure.
Ensure minimum insertion mark on seat post is not visible.

Chain

Check chain is lubricated, clean, runs free, and is properly tensioned.

Frame

The CF Commuter gets its incredibly light weight from a carbon fiber frame, which requires a bit of extra care in handling and examining. Look closely for scratches, especially anything deep or through the paint. With a large coin tap on any suspect area and listen for a change in sound. A normal "tap" sound will become a dull thud if the carbon is broken. Gently push on the suspect area to feel if it's softer than the surrounding area. Also, after being in service on loose gravel roads, check underneath the down tube for impact cracks, which can be caused by rocks flying up and smacking the down tube. If you find anything that concerns you, contact PedalEasy for advice.

Derailleurs

Check both front & rear for proper changing
Check that shifters are firmly attached to handlebar

Electrical

Check for proper functioning of handlebar on/off switch and throttle.

Safety:

Check that reflectors are visible, bell is functional, and rider helmet is worn. In Ontario, riders of power-assisted bikes must be over 16 years old and wear a helmet.
Warranty 
There is a two-year replacement warranty on all bicycle parts, including electrical, should any parts fail due to manufacturing defects. 
Disclaimer 
Pedal Easy is not liable for any injury that may occur while using the Pedal Easy Bicycle. Please read the manual before using our product, and always wear a helmet.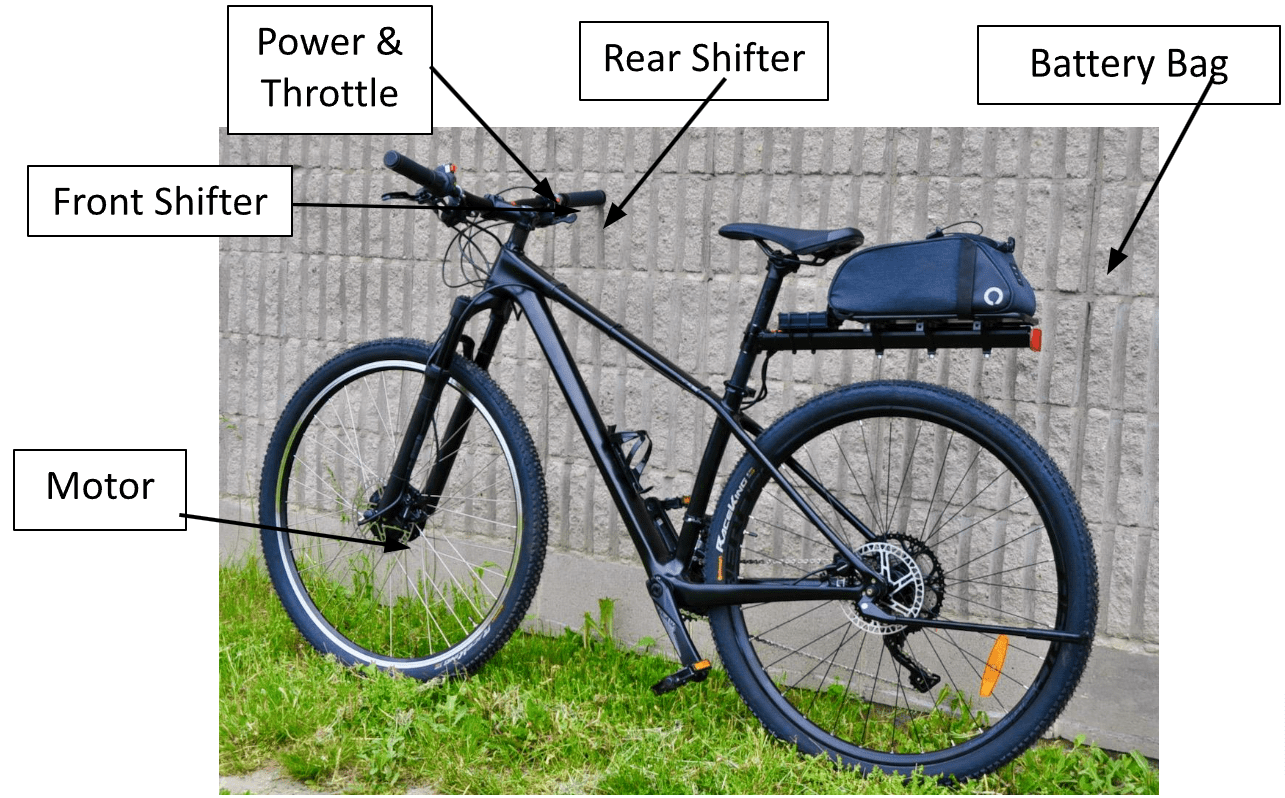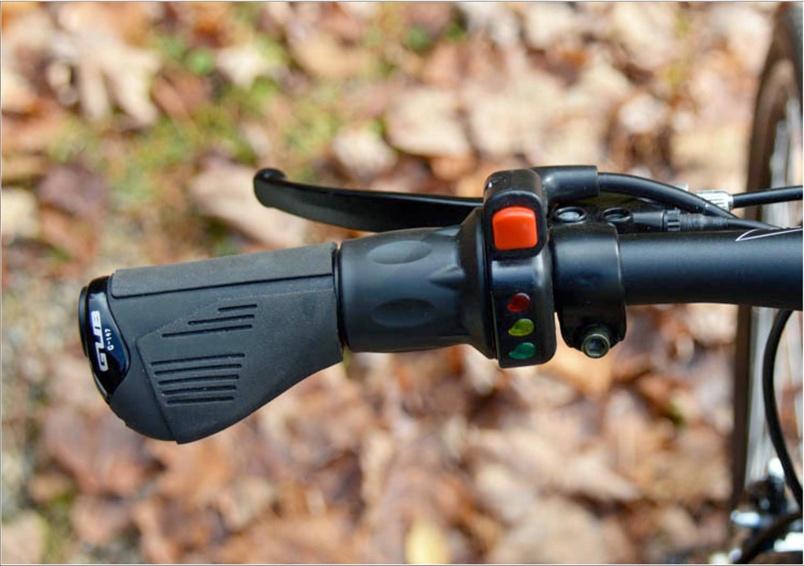 Power control 
To activate the motor, push the red Power button. There are 3 LED lights (red, yellow, green) that give an indication of how much charge is in the battery. When all 3 LEDs are on, the battery is fully charged. At around 50% charge the bottom light (green) goes out; and when charge reduces to about 15% the middle light (yellow) goes out. The top light (red) stays on all the time the switch is "on". The power switch should be turned "off' whenever the bicycle is to be left unattended. Leaving it on not only drains the battery but also it is a safety hazard as someone may inadvertently twist the throttle, in which case the bicycle will move forward. 
A half-grip twist throttle on the left side of the handlebar controls power to the motor. Rotating the throttle forward provides fine control proportional to the amount of power assist. For safety, the throttle spring returns to zero assist (no power) when released. The half-grip allows the rider to comfortably maintain throttle position while riding (index finger and thumb grip the throttle, while the other fingers hold the stationary part of the handlebar half-grip). For comfort and upper-body cushioning, the palms should rest on the rubber lip at the rear of the ergonomic grips. 
Power Assisted Cycling 
The motor drives the front wheel of the bicycle, and the pedals drive the rear wheel. The front wheel drive can help a lot with stability when traversing sand or other soft ground, effectively "pulling" the front wheel in the direction of travel and preventing it from "ploughing". The two drive systems (battery-power at the front and rider-power at the rear) are independent, so either can be used alone or both can be used simultaneously…that is, you can power the bike by pedaling only, just like a conventional bike, or you can power the bike by motor only (using the throttle) without pedaling, or you can pedal & use the throttle for assistance at the same time. 
CAUTION: On ice be careful with use of the throttle, particularly when cornering, as it can spin the wheel and possibly initiate a front wheel skid.
Battery 
The battery is the heart of any e-bike. We use only Panasonic or Samsung Lithium-Ion cells, the gold standard in Lithium-Ion batteries. Good practice is to charge after every significant use. There is no "memory effect" as there was with some older battery types, so charging at partial depletion has no negative effect on the battery. Charging when the battery temperature is below 0 °C can damage it. Using the battery at low temperatures, however, is not a problem. When used at low temperature though, the range is reduced (at minus 20°C the distance you can go on a charge is about half what it normally is). Avoid storing the battery at elevated (>25°C) temperature. Storing at sub-zero temperatures is fine. 
Battery Charging 
The small black plug on the battery plugs into the charger. The charger is plugged into a standard 110V AC household electrical outlet (or car inverter). The charger will also work on 220V AC power. The charger has a single power-on light that changes red to green when the battery is fully charged. The battery can be left on the bike while charging, in a garage for example, or it can be removed for charging elsewhere, by unplugging the red socket and pin connector as described below. The battery cannot be overcharged. It's safe to leave it on the charger overnight. need new charger photo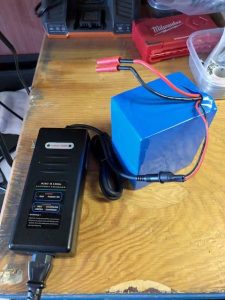 Battery Removal for Charging 
There are two connectors on the battery. The small black one connects to the battery charger. The other one connects to the bike with an Anderson connector, connecting red to red and black to black. To remove the battery from the bike for charging, gently pull the connectors apart. Pull only on the sleeves and never directly on the wires. Once charged, reconnect the sleeves. Be sure to push firmly to fully connect.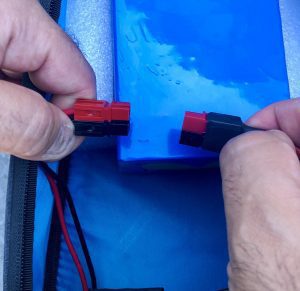 Battery Range
 An average weight person riding on a level surface using just the battery can expect a range of approximately 30 Km. As our bikes are lightweight to encourage pedaling, many of our customers report cycling ranges of 60 to over 100 km.
Charging from full discharge takes about 4 hours. Charge time is proportional to state of charge (for example, a half-discharged battery will take about 2 hours to charge). 
For maximum range, use the motor sparingly, avoid unnecessarily rapid acceleration, avoid motor-only use, and keep speed down to minimize wind resistance. If more range is needed between charges, carry a spare battery. 
The motor incorporates a planetary gear drive. The gear ratio has been chosen to provide high torque assistance to eliminate heavy exertion, rather than to provide high speed. Under pedal-power the bike can go as fast as the rider can pedal it, but at higher speeds (>32kph) motor assistance falls to zero and to go faster, the rider must provide additional effort. It freewheels downhill just as well as a conventional bike. The motor does not in any way impede the bike's performance or limit its speed. 
Basic Maintenance Procedures 
Lubricate and clean the chain and drive train components like a regular bike. All parts except a few electrical components (motor, throttle, controller, battery) are conventional bike components, so the maintenance is the same as for any derailleur geared bike. Described below is essentially the only procedure that differs a bit from a conventional bike. 
Front wheel removal & installation: 
Disconnect motor connector at front hub (the two-piece rubber connector pulls apart, but when re-inserting it be sure that the alignment arrows molded into the rubber on each half are perfectly in line, and then push hard to ensure the two halves of the connector are engaged up to the line that is molded into the rubber) 
Loosen both axle nuts enough to clear the safety "lips" on the fork dropouts. Note the position and orientation of the anti-rotation washers on both sides of the axle.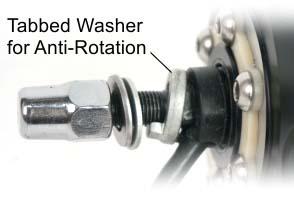 Remove wheel from fork. 
Installation is the reverse of removal 
Insert wheel into dropouts with anti-rotation washers installed as in diagram. Check to ensure axle is fully inserted into dropouts & wheel is centred in fork. Torque axle nuts to 35 N.m. Proper torque is critical to ensure solid retention between axle & fork and prevent rotation of axle due to motor torque. Reconnect motor connector as per photo.
Rear wheel removal & installation: 
The rear wheel has a quick-release hub, so wheel removal simply requires releasing the tension in the skewer by flipping its release lever, then loosening its adjustment screw sufficiently to allow the wheel to be pulled from the rear dropouts (frame slots).
General 
The motor has its lowest efficiency when it is at stall or near stall conditions. At low efficiency it is not able to develop its maximum power. Therefore, for climbing steep hills it is better to engage the motor before reaching the hill and go up quickly rather than slowly. You will be able to gauge efficiency by motor noise…. the quieter it is, the more efficiently it is running. Go up hills at about twice the speed you would normally pedal up. We recommend gearing down like a conventional bike before going up a steep hill while you are in the learning stages of the bicycle. As you become more comfortable with the bike, you will notice that you don't have to use the lowest gears to climb hills. For pedaling up steep hills there is no need to gear down as much as you would with a conventional bike.
Regular Scheduled Maintenance – we recommend that the following be checked periodically 
Brakes 
Check hydraulic brake lines for damage 

Check hydraulic fittings for signs of leakage 

Check brake levers are securely fastened to handlebar 

Check that brake calipers and rotors are securely fastened 

Check brake pads for wear and rotors for damage. 
Wheels & tires 
Check tire pressure (see below) 

Check for adequate tread depth & ensure no bulges, cuts, or abrasions 

Check all wheel spokes are firm 

Check that rims run true 

Ensure front and rear axle nuts are tightened to specifications. 
Saddle: Adjust to proper height for the rider & ensure the clamp is secure. Ensure minimum insertion mark on the seat post is not visible. 
Steering 
Check that headset bearing preload is correct (free steering but no play) 

Check alignment of forks, handlebar & direction of travel 

Check stem is firmly attached to the fork steering tube and handlebar. 
Chain: Check chain is lubricated, clean, runs free, and is properly tensioned. 
Cranks & Pedals 
Check cranks are secure to spindle (axle) and are straight 

Check pedals are securely fastened. 
Derailleurs & shifters 
Check for proper changing 

Check that shifter is firmly attached to handlebar 

Check that front and rear derailleurs & firmly attached and that cables are not frayed 
Frame & Fork: Check that frame and fork are undamaged. Inspect closely for cracks or discoloration that could be a sign of a stress-caused failure, which can result in sudden failure and serious injury.
Electrical: Check for proper functioning of handlebar on/off switch, and throttle. 
Tire pressure: 50 psi, but OK as low as 40 psi if you are of low to medium weight. Lower pressure gives a softer ride. For lower rolling resistance, and to maximize battery range, inflate to the maximum rated pressure of 65 psi.
| | |
| --- | --- |
| Torque specifications:  | |
| Front and rear axle nuts (4) | 35N.m  |
| Handlebar to stem (4) |   8 N.m  |
| Stem to fork tube (steerer) (2) |   8 N.m  |
| Brake boss mounting bolts (2) |   8 N.m  |
| Crank bolts (2) | 40 N.m  |
Shimano Brake Manual: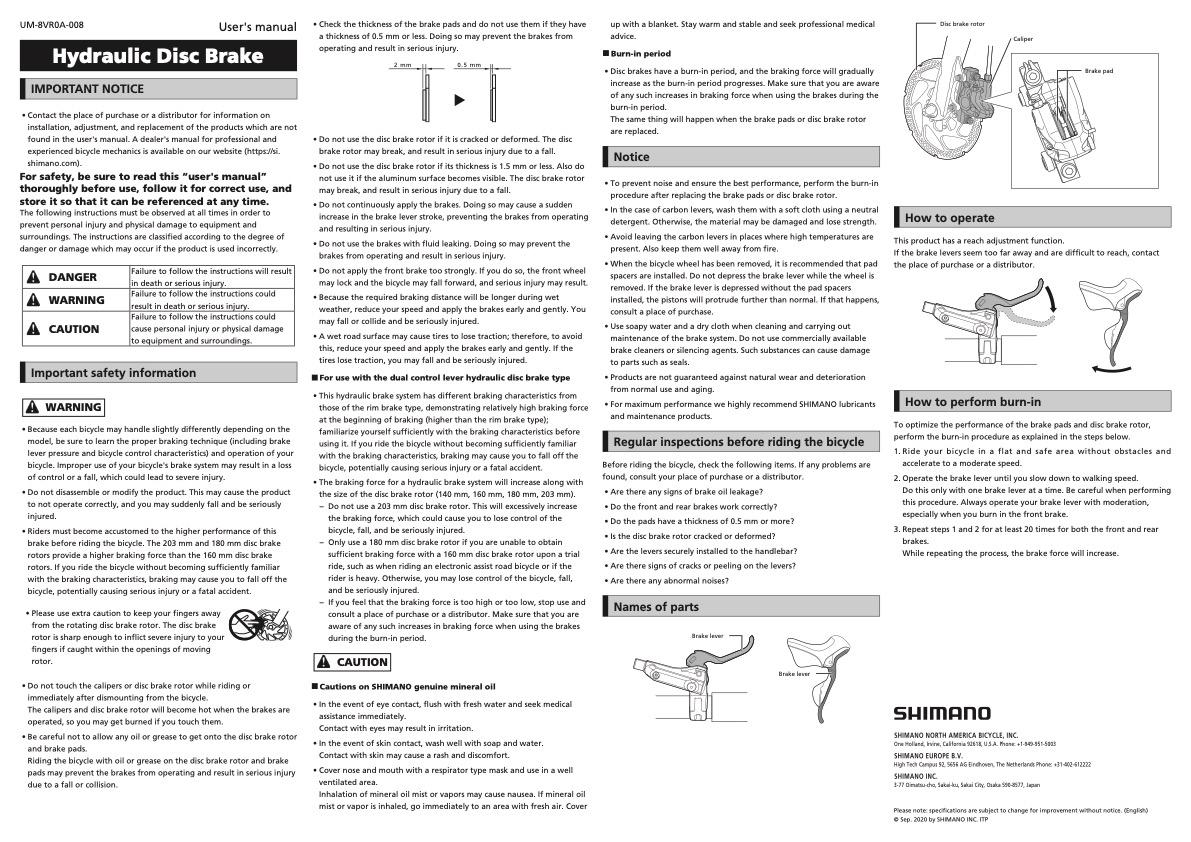 Shimano Derailleur Manual