"The ultimate low energy vehicle"
(Paper presented to Ontario Science Expo Youth Group, Nov 2013)
For the past four years I have been working on what I consider to be the ultimate vehicle…the lightest electric bicycle on the market.
But rather than dwell on technical details, I would like to (1) give you an overview of what I see as the importance of this technology; and (2) use this as a case history to reflect on what motivates science & innovation.
(1) First, I want to get you thinking about energy:
Let's say you own a Honda Civic, a good economical car.

Let's say you live 10 km from school.

Imagine getting up in the morning & pushing that car to school.

Of course, no-one would do that, but visualizing it helps to understand just how much energy/effort is involved.

Gasoline is concentrated energy…it would take about half a litre, so about 1 litre for the round trip.

Now suppose you electrify that car (as I did back in 2006 with a Prius hybrid).

In Figure 1 you can see one of the three batteries I retrofit into the Prius, each weighing 40 kg and each having just enough storage capacity to make that round trip of 20 km. A sizable battery!

Cars are heavy. What happens if we don't carry around that extra 1500 kg?

How big a battery would it take to make the trip on our electric bike?

Figure 2 shows the battery that will do that (the little blue one) …it fits in the palm of your hand & weighs less than 1 kg.

But you say…let's forget about gasoline or batteries, let's just pedal the bike and forget about wasting energy.

However, "human energy" requires food, and making & transporting our food takes a lot of energy…it comes as a surprise to most people to learn that in a total energy audit: Pedaling uses more primary energy than an e-bike ("The energy cost of electric and human-powered bicycles", Justin Lemire-Elmore 81781999, April 13, 2004), and…

Walking uses about 1.8x the energy required by the e-bike.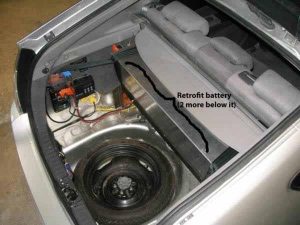 Figure 1: Retrofit battery in Toyota Prius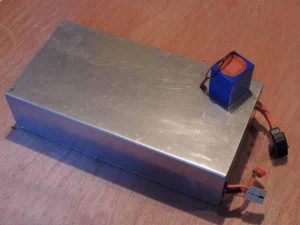 Figure 2: Compare battery sizes for same range (car vs bike), little blue battery is Pedal Easy standard battery, big aluminum case is 1 of 3 batteries in electric car
(2) Some facts & figures about electric bikes worldwide
The most efficient means of transport ever devised

E-bike 10 W.h/km

Walk 18

Train 35

Car (single driver) 400
200 million e-bikes in China
-Compare 60 million cars in China
-Worldwide 1000 million cars
2012 annual e-bike sales in China 30 million,

Europe 740,000, Japan 350,000, USA 80,000

E-bikes are the world's fastest selling electric vehicle

Expected to hit 47 million per year by 2018
(3) Our e-bikes
They are light & sporty, fun, & are designed to encourage people to get out & ride…further & more often than they ever thought they would.

They are aimed at promoting fitness by harnessing the inherent joy of open-air cycling while allowing the rider to take the peaks off the heavy grunt work.

A fusion of fun and fitness that "lures you in" to energy-efficient transportation!

Our bikes are the integration of a high-performance bicycle, high efficiency geared DC motor & state-of-the-art lithium-Ion batteries.

For people recovering from or living with physical limitations there is an optional control system that allows the rider to program the e-bike to provide feedback on his/her own power & energy expenditure & log the results, as well as allow him to set thresholds & limits for the motor, specific to his own needs:
-For example, a rider with knee problems can set a limit on torque, whereas
-Or a heart rehabilitation patient can set a threshold based on cardiac output (human energy), above which the motor assists.
(4) Reflections on what motivates discovery & innovation
I have had a passion for designing and improving equipment all my life.

You may have heard it said that necessity is the "mother" of invention

If that's true… then surely play has got to be the "father"

Looking inwards, I see this clearly…sure, in this case I had a need. I have a heart problem and I wanted to continue riding a bike.

But the motivation to develop a bike that would meet my needs came from "play" …the "what if", the wonder, the joy of discovery.

Looking outwards I wonder. Could it be that play, and fun, are the motivators for most human endeavors, innovation, and discovery?

Whether it is science, engineering, or the arts, I believe that is true.

As an old person to a young person, I will leave you with that thought.